Brand Info: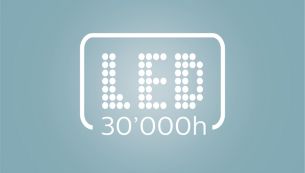 Advanced LED Light Source
The powerful LED light source displays rich, vivid colours and will last up to 20,000 hours. You won't need to replace it; it lasts 20 years if used 4 h per day! In addition, the power consumption is far lower than a regular lamp-based projector: a bigger screen and an immersive experience with an eco-friendly device!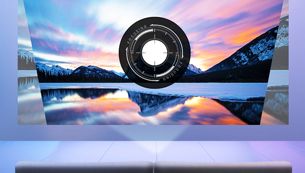 Customise your projection
Place the product wherever you want! The keystone correction combined with the focus technology allow you to fine-tune images to your needs and place your projector at any distance.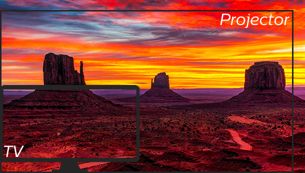 Project images up to 80″
Project images and videos up to 200 cm (80″) from less than 2 metres from the wall.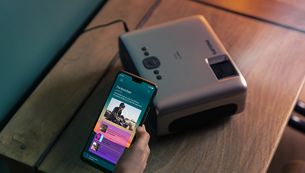 TV shows streaming directly from your smartphone
Stream any TV shows or films via Wi-Fi from your smart devices.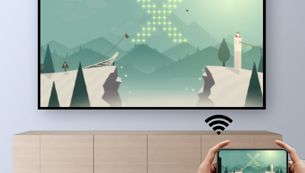 Wi-Fi screen mirroring for smart sharing
Connect your mobile devices such as a tablets, smartphones or even computers wirelessly to mirror and share all your contents. Videos on your phones? No worries, just cast it through Wi-Fi! (iOS, Android, Mac and PC)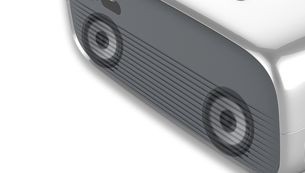 Built-in stereo speakers for crystal-clear sound
No need for extra sound systems; the built-in stereo speakers produce deep, room-filling sound perfect for films at home.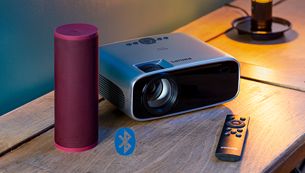 External Bluetooth speakers connection
Connect your projector wirelessly to external boomboxes or soundbars to bring life to your movies and gaming sessions.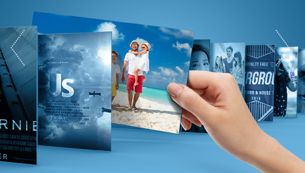 Built-in Media Player for unlimited binge watching
Pop your essentials in your hand with the integrated Media Player: Browse, watch all your videos, listen to your music or share your latest holiday pictures.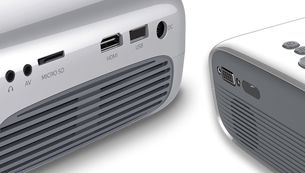 Fully Connected (HDMI, USB, VGA or MicroSD)
Connect any multimedia devices such as set top boxes, PC, MAC, gaming consoles and streaming devices like Fire Stick or Apple TV with the USB, HDMI or MicroSD ports.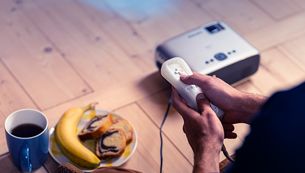 Make It smart!
Access to unlimited content by connecting to any smart gaming consoles or TV boxes like Fire Stick or Apple TV.
---
As a big movie and gaming geek, as well as online media consumer, I've always been interested in projectors, however I know they are not generally so 'budget' friendly or even SPACE friendly in some cases.
This is why the Philips NeoPix Easy+ Mini Projector interested me, it has a small form factor, it's quiet, it's bright and it supports up to 1080p. That sounded PERFECT to me.
So first let's look at the official specs below and I'll let you know how it performed.
Tech Specifications:
Display technology
LCD

Light source
LED

LED lifetime
up to 20.000 h

Brightness
up to 2600 led lumens

Resolution
800 x 480 pixel

Resolution supported
1920 x 1080 pixels

Projection image size
up to 200 cm (80″)

Projection distance
80 cm – 200 cm/24″ – 60″

Aspect ratio
16:9

Throw ratio
1,4:1

Contrast ratio
3000:1

Focus adjustment
manual
Keystone correction
manual

Integrated media player
yes

Sound
Stereo Speaker
2 x 2 W

Bluetooth speaker connection
Yes
When I first got the NeoPix Easy+ out of the box I was rather hesitant, the box felt really light and I didn't have much expectations to be honest due to this.
Taking it out revealed a shiny matte finish silver box with some plastic buttons on it, vents and many I/O ports. As someone who has only ever seen the LARGER oldschool projectors, I wasn't sure it was going to do anything for me.
However, I can safely say I was wrong.
Plugging it in, I went through a basic setup, used the very easy to use keystone adjustment to get it set up on my wall from around 5ft.
All extremely simple, even connecting it to the WiFi (although I was an idiot and used the buttons on the top to enter the password rather than the faster remote, doh).
Once connected I could wirelessly play YouTube, media, music and films I have bought, that was SO COOL. Only having power plugged in gave it an extremely portable footprint. Not to mention you have all the inputs to hook up to any media devices you can think of.
The image was crisp, bright and was pleasing to the eye, I sat and watched an entire movie right after and I really enjoyed the freedom of being able to have a 80″ screen on the wall from only like 2 metres away, that's incredible!
I've been using it to play YouTube media at night and even going to start using it to project images for photography / cinematography due to the brightness of the unit.
If you are looking for a budget friendly, bright, compact and innovative projector, you can't really go wrong with the Philips NeoPix Easy+.
---
Want YOUR product featured?
Enquiries + Sponsorship — http://bit.ly/MorphMagazineReviewForm
Email — paul@morphmagazine.co.uk
Twitter — @PaulBryanTV
Instagram — @PaulBryanTV
Some links are affiliate links from Amazon which helps support this Magazine and does not affect your purchase in any way.